VaDo Cup 2019 FINAL round 6
When all eyes were on the first board, the winner of the VaDo Cup 2018, Mateusz Surma 1p, fought his battle with Dominik Boviz 6d, somewhere in a small corner of the Calimari hotel, where the
Winter Go Festival 2019, Vatra Dornei, Romania
was held.
Everybody expected young super talented Stanislaw Frejlak 7d to sweep the tournament, as he started his last game against the go-playboy Dusan Matic 7d with a 100% score. (Stanislaw knew he should have lost his games against the Romanian players Elian Grigoriu 5d in round 2 and in round 5 when he outplayed the ever sympatic Dragos Bejenaru 6d in the engame and turning a more then 10 point behind into a 0.5 win!).
But....also Dusan is very talented and a respected 7d...so Dusan won by 1.5 (see game below).
winner VaDo Cup 2019: Mateusz Surma 1p
2. Stanislaw Frejlak 7d
3. Dusan Matic 7d
Final standings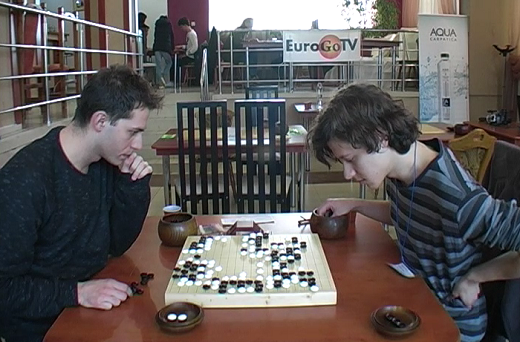 Dusan Mitic 7d(b) vs Stanislaw Frejlak 7d 1-0 (
B+1.5
)
placed by EuroGoTV1 on 18:58 Sun 10 February 2019
comment(s)

Not a member yet?
Join now!
; it is easy, fast and
FREE!
No third parties have any acces to provided data.
Did you know that
VIP-members
have an auto-login option?