Grand Slam Berlin - - - FINAL - - -
So, the
Grand Slam FINAL
would be between
Buddha
Mateusz Surma 1p
(
photo left
)
and
The Killer
Ilia Shikshin 1p
(
photo below
)
Nigiri was won by Ilia, who chose white.
The game was being played in a special prepaired room which reflected the function of the building (the Chinese Cultural Center in Berlin, Germany).
Where Mateusz started with making solid territory, Ilia focussed on creating strong groups.
Both players were 100% focussed during the whole match.
There was no disturbence, beside me, there were no visitors, as they played on a different floor.
Meanwhile there were some other (smaller) finals. The battle for places 7 and 8 was between Andrii Kravets 6d and Alexandre Dinerchtein 3p; for places 5 and 6 Artem kachenovskyii 6d and Pavol Lisy 1p were battleing.
Andrii Kravets made (according to me....) a hudge error when he played move 65, an atari to 2 non-cutting stones. Ofcourse played alexandre tenuki, took the lead with that move and never gave it away again.
Alexandre Dinerchtein 3p(w) vs Andrii Kravets 6d W+ 1 stone and 3 quarters
In the game between Pavol Lisy 1p and Artem Kachanovskyii it was also black (Artem) who early in the game made a slack move and was never again given the possibilty to come back......
Pavol Lisy 1p(w) vs Artem Kachnovskyii 6d W+ 2 stones and 3 quarters
Third place would still bring a big paycheck (2.500 euro) so one would expect an intense game, both players going all the way........but when you replay one can only wonder what was wrong with Cristian Pop 7d as he looked not for a moment in control. Especially move 58 when he attached a stone, where attacking from a distance and playing it in a grand style (yet he is known as Poppi Grande) would strategicly be the right path, looked uninspired. Soon he was too far behind...
Ali Jabarin 1p(w) vs Cristian Pop 7d W+R
Back to board 1.....would white also win here or would black honour the statistics?
As European players are not experienced playing under Chinese rules the 7.5 komi (actually 3 stones and 3 quarters) for white is putting (way too much) pressure on black which makes the black-player start inresponseble actions.
In a way this was very true in this game as Mateusz feld he was behind and so he started to play aggressive.
Ilia did not get frightened and when the storm was over all his groups were having 2 eyes, while several of black groups did not....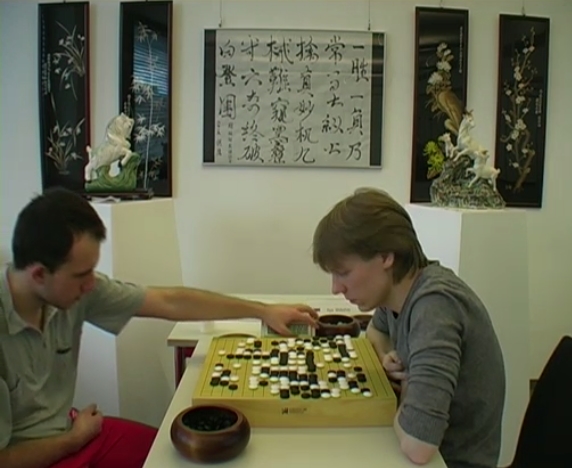 Those who followed the live video stream on EuroGoTV saw the scene above, where Mateusz stopped the clock.
Grand Slam Champion 2015 is Ilia Shikshin 1p
Russia
Runner-up is Mateusz Surma 1p Poland
Is Go becoming a big money businesss?
Many thanks to all the organizers, volenteers, the Chinese Cultural Center, but also to the viewers for making this the tournament it was.
All results
photos day 1
photos day 2
photos day 3
photos day 4 (the final)
placed by HW9x9 on 08:11 Mon 06 April 2015
comment(s)