'Nihon Ki-in Summer Go Camp 2017 in Kyoto, Osaka and Tokyo'
The Nihon Ki-in Go Camp 2017 will be held from 25 August till 6 September in Kyoto, Osaka and Tokyo!
The Summer Go Camp is a Nihon Ki-in annual event for non-Japanese go players who want to improve go level, to experience very rich go culture in Japan and to make friends with the players from around the world!!
1. OVERVIEW
-Organiser: The Nihon Ki-in
-Term: 25-30 August in Kyoto and Osaka/1-6 September in Tokyo(Nihon Ki-in)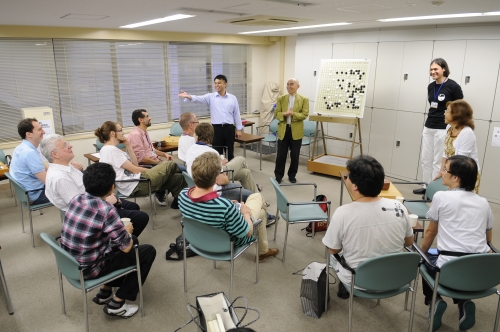 Super Special Offer!
If you make registration before 20 July 2017, you will be given 10,000JPY cash-back at the first day of the Camp.
Don't miss it!! *This special offer will end on 20 July 2017!!
The Summer Go Camp 2017 will give you very unique, rare and special contents as follows:
– You play for Japan's most popular amateur tournament in which more than 1,500 players will register.
– Go lecture and workshops will be provided by famous professionals including
legendry players, Ishida Yoshio (24th Honinbo), O Meien 9p, Michael Redmond 9p. *All lectures will be conducted in English or English translations.
– You will visit and watch the first game of Meijin Title Match at the five stars in Osaka.
– The main theme of the Summer Go Camp 2017 (in Tokyo) will be "A.I. Go", mainly AlphaGo!!
For more and further details, please check the official website as follows:
http://www.nihonkiin.or.jp/english/summer_go_camp2017/index.html
If you have any questions on the Summer Go Camp, please feel free to contact us to
overseasdept@nihonkiin.or.jp
For more latest information, please also check the official Facebook Page of the Nihon Ki-in:
https://www.facebook.com/The-Nihon-Ki-in-Japan-Go-Association-286261298096771/?fref=nf
We look forward to seeing you in
Kyoto, Osaka and Tokyo
in August 2017!!
placed by EuroGoTV-NK on 10:16 Fri 09 June 2017
comment(s)